Image Source: Pexels
Social media can play an essential role in growing your online presence. However, simultaneously working on multiple social media accounts can be daunting, especially when juggling other responsibilities.
Nevertheless, you can streamline your social media tasks to get more things done quickly.
That's why we've compiled a list of time-saving tips for social media to help you achieve your goals. Whether you want to increase your engagement, promote your business, or build your brand, these tips can help you achieve your goals.
So, if you're ready, let's begin!
Plan and Schedule Your Content
Scheduling your content days ahead will tremendously save you time on social media. Create a social media plan or content calendar and come up with posts every day.
Ideally, you want to create a 30-day content calendar that you can schedule in advance. This lets you establish a consistent and engaging presence on social media. More importantly, you get to finish social media posts in advance so you can focus on other tasks. You can then create another content calendar for the following month based on the results of the current campaign.
To do this, brainstorm themes for each day to create variety in your calendar. For example, reserve Monday posts for inspirational quotes. On Tuesday, promote your latest blog posts and published content online. You can source ready-to-use photos and videos to cover these themes, saving time and making your life easier.
Use Social Media Management Tools
While you can schedule your posts on native social media sites, using social media management tools is better. They let you connect to all your social media profiles to schedule your posts across multiple accounts in a single dashboard. This way, you don't have to flip and flop across your different social media accounts just to publish and review your posts.
Another great use for these tools is monitoring your content calendar's results. Check out the posts with the most engagement and replicate them on your next content calendar. If you work for clients, you can use social reporting to identify what worked and didn't in your campaign. Then provide suggestions on how to improve it.
Some popular social media management tools include Agorapulse, Later, and CoSchedule. Using these tools lets you save time and improve your social media strategy.
Focus on Quality over Quantity
You initially want to create a month-long content calendar to sustain your online visibility on your desired social channels.
However, you don't want to keep posting this much if they're not producing the engagement you want. In this case, create high-quality content that resonates with your audience.
Check which post types scored high in your social media metrics over time and replicate them in your next calendar. However, you want to see the times and days that produced the most engagement from your audience.
Focus on scheduling posts at these times to maximize your visibility and engagement. This also means you don't have to publish daily.
Repurpose and Recycle Content
Image Source: Pexels
Instead of creating new content from scratch, consider repurposing existing content as social media posts.
For example, you can transform your blog post into many social media posts. A tool like MissingLettr generates 6 to 12 months of posts promoting the same content. You can also chop your infographics into sections and post them on social media.
Take your social media repurposing to another level by featuring user-generated content (UGC) in your posts, including testimonials and photos of customers showing your brand or products. You can even run ads using UGC to increase your reach further.
Another way is to recreate your content in different formats and promote it on social media. Convert your video content into a podcast, blog post, or YouTube Short. Then share them across your social channel and see whether changing the format improved your audience engagement.
Social media tools even have a feature to repost your most popular posts multiple times on social media platforms.
By repurposing and recycling your content, you can maximize the value of your content without having to brainstorm new ideas every time.
Outsource Social Media Tasks
If managing your social media accounts still takes up much time, consider outsourcing your social media tasks to a freelancer or agency. Use sites like Legiit to hire someone who can create content, schedule posts to promote events and blog posts, and monitor their performance on your behalf.
But make sure to hire a trustworthy person for the job. Refer to their customer testimonials and star ratings to gauge whether they will fit your plans.
Initially, you want to monitor their work for the first few days. This enables you to align your processes so they can eventually do it without your constant guidance.
Outsourcing your entire social media plan frees up a lot of your time, letting you focus on other aspects of your business or personal life.
Conclusion
Social media can help businesses and individuals promote their brands, but the process can be very time-consuming. However, by implementing these time-saving tips, you can streamline your social media tasks and improve your online presence.
About Christopher Jan Benitez
Christopher Jan Benitez is a freelance writer for hire who specializes in the digital marketing field. His work has been published on SEO and affiliate marketing-specific niches like Monitor Backlinks, Niche Pursuits, Nichehacks, Web Hosting Secret Revealed, and others.
5 Effective Time-Saving Tips for Social Media

– Jul 25, 2023

5 Commandments of Blog Branding

– Aug 3, 2022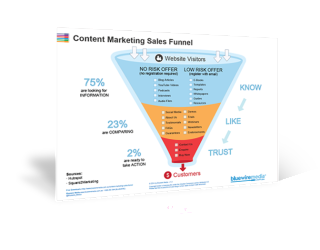 Content Marketing Sales Funnel
Your content marketing sales funnel is all about getting people to know, like and trust you by nurturing them with the right information at the right time.
Download it now