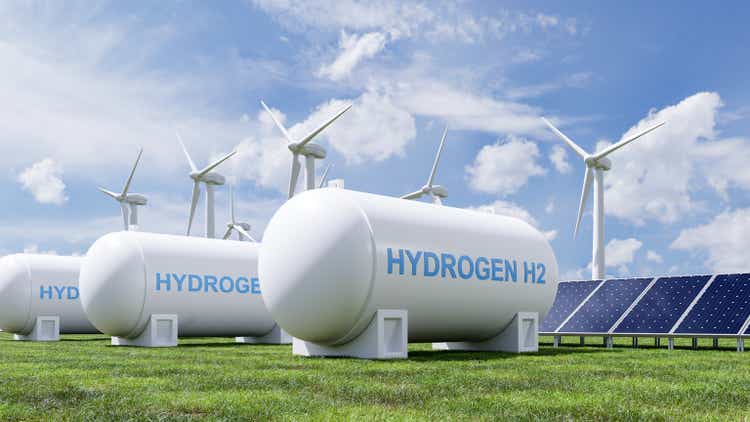 The U.S. Department of Energy unveiled Friday the seven initial recipients of $7B in federal grants to accelerate development of regional hydrogen hubs under the infrastructure law passed in 2021.
The seven hubs will serve the Middle Atlantic, Appalachian, Midwest, Minnesota and Plains states, the Gulf Coast, Pacific Northwest and California.
President Biden made the announcement in Pennsylvania, whose Mid-Atlantic hub will receive up to $750M in funding and will use existing oil infrastructure to produce hydrogen from both renewable and nuclear energy; project partners include PBF Energy (PBF) and Air Liquide (OTCPK:AIQUF) (OTCPK:AIQUY).
The $1.2B Gulf Coast hub, called HyVelocity, will be developed in an area that already contains the world's largest concentration of hydrogen production and energy infrastructure; partners include Exxon Mobil (XOM), Chevron (CVX), Air Liquide, Mitsubishi Power, Orsted (OTCPK:DNNGY), AES Corp. (AES) and Sempra (SRE); Amazon (AMZN) is among the hub's expected end users.
Amazon, Mitsubishi and Air Liquide also are partners in the winning Pacific Northwest hub, joining Fortescue (OTCQX:FSUMF) and local utilities Portland General Electric (POR) and Puget Sound Energy.
Amazon and Air Products (APD) are among participants in a $1.2B California-based project that will produce hydrogen exclusively from renewable energy and biomass and is aimed at decarbonizing public transportation, heavy-duty trucking and port operations.
A hub proposed by a group of Midwest states was awarded up to $1B would be partially powered by nuclear energy to provide hydrogen for uses including steel and glass production; partners include Exelon (EXC) and Constellation Energy (CEG).
The Appalachian hub, backed by Senator Joe Manchin, spans parts of West Virginia, Ohio and Pennsylvania and will partner with natural gas producer EQT Corp. (EQT), receiving up to $925M to produce hydrogen using natural gas with carbon capture.
The $925M Heartland Hydrogen Hub is intended to leverage the region's energy resources to help decarbonize the agricultural sector's production of fertilizer and advance the use of clean hydrogen in electric generation; partners include Xcel Energy (XEL), Marathon Petroleum (MPC) and TC Energy (TRP).
The companies are expected to invest more than $40B across the hubs, which will aim to produce more than 3M metric tons/year of clean hydrogen, or roughly a third of the 2030 U.S. clean hydrogen production goal.
The projects will take many years to develop, and the companies and states still must negotiate with the Energy Department and meet certain conditions before receiving grants.
ETFs: (NASDAQ:ICLN), (NASDAQ:QCLN), (NYSEARCA:PBW), (PBD), (ACES), (CNRG), (ERTH), (SMOG)
More on clean energy ETFs