Voters increasingly think both President Joe Biden and his son did something illegal when it comes to Hunter's foreign business dealings. At the same time, over half think former president and leading Republican presidential candidate Donald Trump did something illegal in relation to classified documents and efforts to overturn the 2020 election, according to the latest Fox News survey. 
The poll, released Monday, finds a majority of 52% believes Trump did something illegal in connection to efforts to overturn the 2020 election and his handling of classified documents. About a quarter each believe he did something wrong, but not illegal (23%) or didn't do anything illicit (24%).
COMER DEMANDS ANSWERS ON WHETHER BIDEN CLASSIFIED RECORDS MENTION COUNTRIES RELATED TO FAMILY BUSINESS DEALS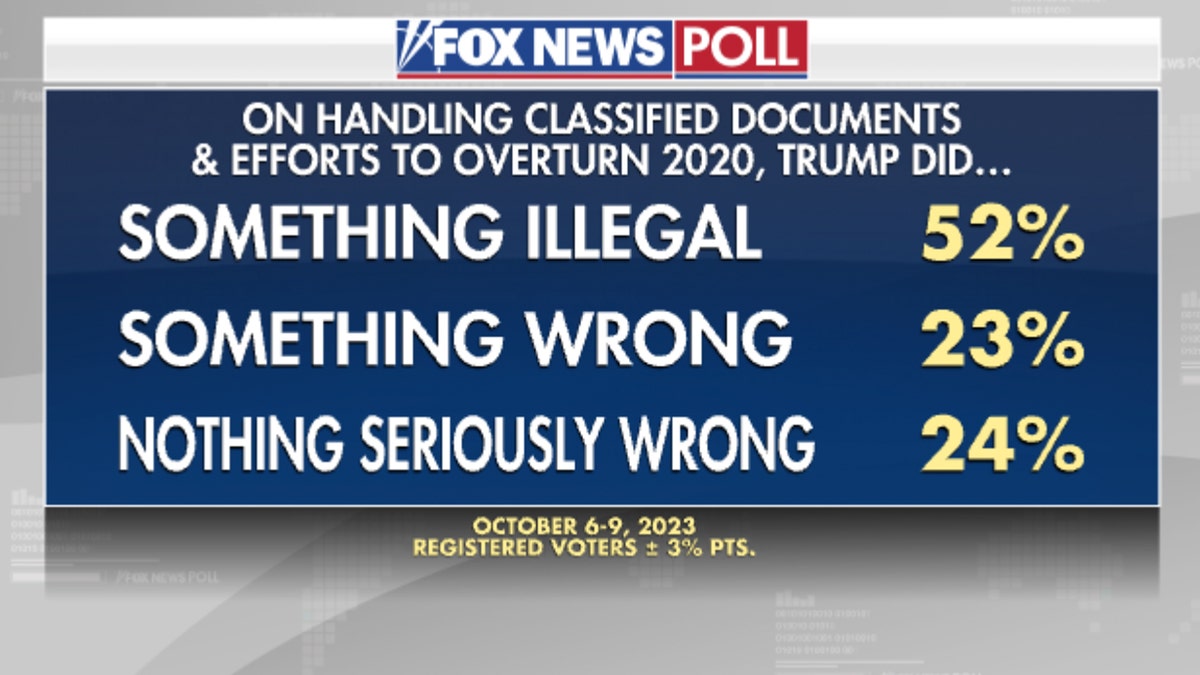 Majorities of Democrats (86%) and independents (53%) think Trump did something illegal while views among Republicans are more mixed (18% illegal, 35% wrong/not illegal, 45% nothing wrong).
JUDGE IMPOSES PARTIAL GAG ORDER AGAINST TRUMP I SPECIAL COUNSEL JACK SMITH'S JAN 6 CASE
Turning to the Bidens, the survey finds a record 52% think Hunter Biden did something illegal in relation to his business dealings in Ukraine and China.  That's up a couple ticks from 50% in August and up 13 points since December 2022 when 39% thought he committed a crime.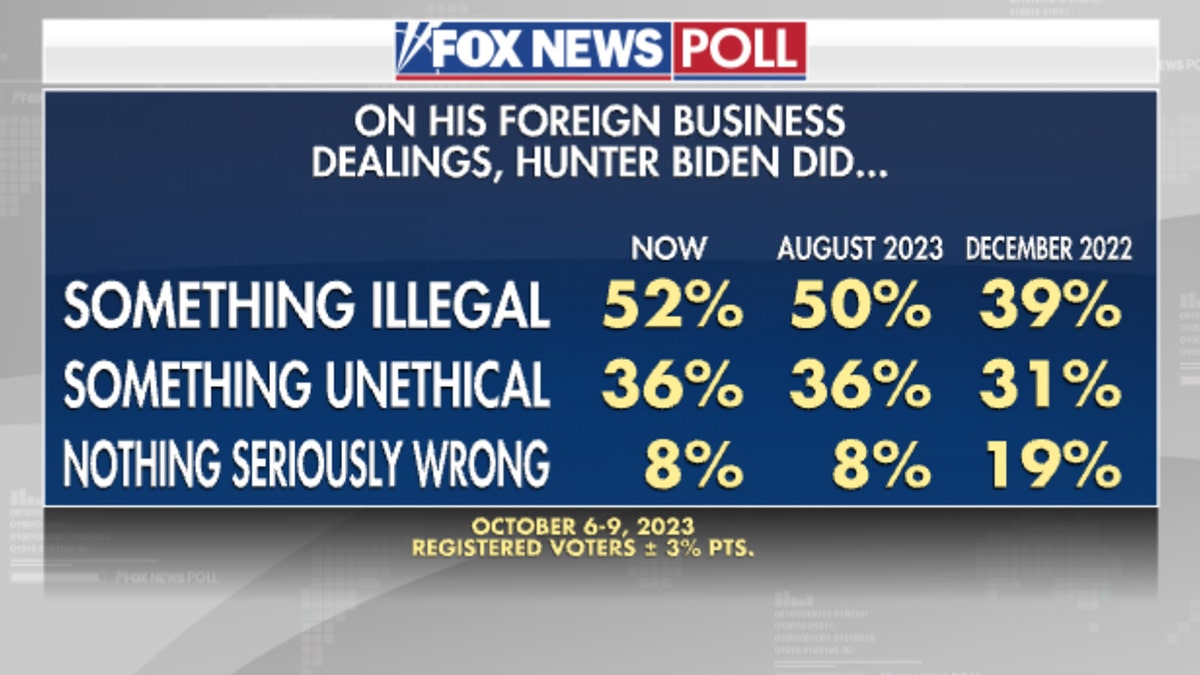 That negative shift is seen across the board, as independents (+18 points), Democrats (+13), and Republicans (+11) are now all more likely to think Hunter did something that's against the law since December.
Overall, roughly one-third (36%) believes Hunter was unethical, but on the right side of the law (that number has been between 31-36% since last December) while those thinking he did nothing wrong dropped significantly from 19% to 8%.
The share believing President Biden did something unlawful when it comes to his son's foreign transactions is also up, as 40% of voters currently feel that way. That's up from 38% in August and 35% in December 2022.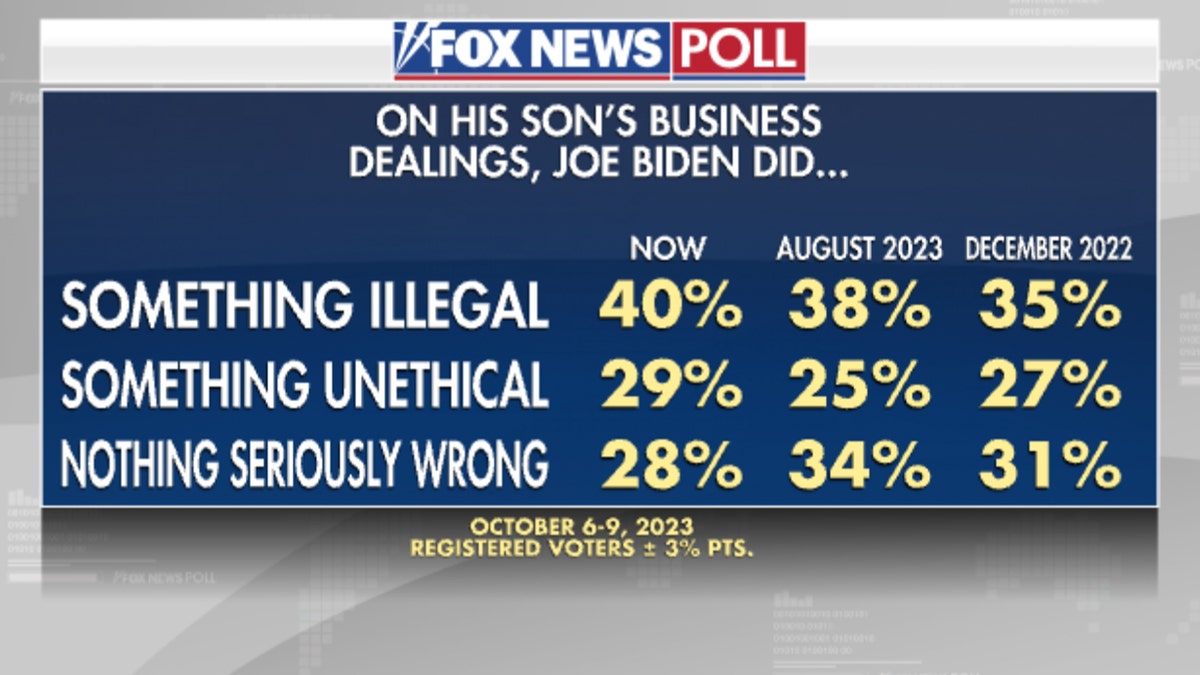 That 5-point increase since December is largely attributed to independents (+13 points) and Republicans (+7), as views mostly held steady among Democrats (+2).
Some 29% of voters believe the president was unethical, but did nothing criminal, and 28% feel he did nothing wrong. That's slightly higher than the 24% saying Trump did nothing wrong.
CLICK HERE TO GET THE FOX NEWS APP
But is the legal system treating Donald Trump and Hunter Biden fairly?  While over half think both men are being treated fairly, more think Hunter is (68%) than say the same for Trump (55%).  Some 44% feel Trump is being treated unfairly compared to 25% for Hunter.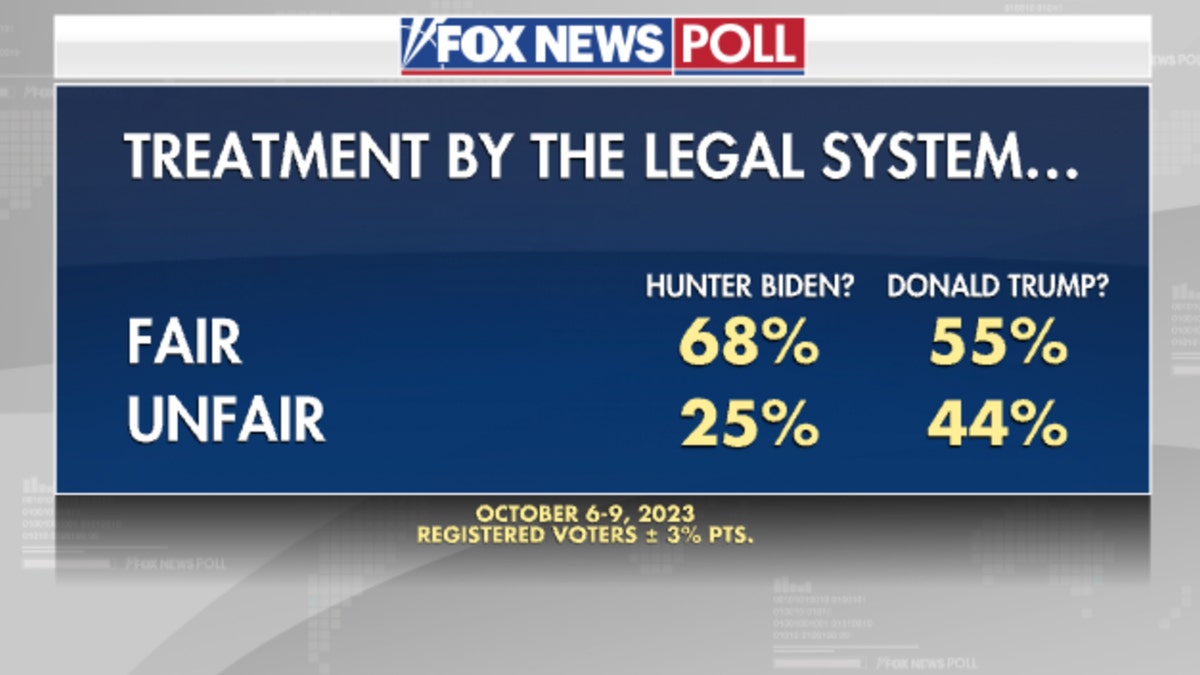 Majorities of Democrats (60%), Republicans (75%), and independents (72%) agree Hunter Biden is being treated justly, but views are more partisan when it comes to Trump. Nine in 10 Democrats say he's being treated impartially while 8 in 10 Republicans say he's not. Independents say it's fair play by a 16-point margin (56% fair vs. 40% unfair).
CLICK HERE FOR TOPLINE AND CROSSTABS
Conducted October 6-9, 2023, under the joint direction of Beacon Research (D) and Shaw & Company Research (R), this Fox News Poll includes interviews with 1,007 registered voters nationwide who were randomly selected from a voter file and spoke with live interviewers on both landlines and cellphones. The poll has a margin of sampling error of plus or minus 3 percentage points for all registered voters.