Multiple pro-Palestinian student groups hosted a march and "die-in" at Harvard Business School Wednesday in protest of Israel's "genocide" of Palestinians in Gaza.
Just over a week after Hamas terrorists killed more than 1,300 people in Israel, two Harvard student groups – the Harvard Palestine Solidarity Committee and Harvard Graduate Students for Palestine – organized a march from Harvard's main campus in Cambridge to its business school in Boston to protest Israel's alleged mistreatment of innocent Palestinians in Gaza.
The crowd of pro-Palestinian Harvard students marched from one Harvard campus to the other with signs and banners, one reading, "Stop the genocide in Gaza," while chanting slogans like, "Hey! Hey! You can't hide, we charge you with genocide." Chants of "F— Harvard Business School" could be heard from the marchers as well. 
HUNDREDS KILLED IN BLAST AT GAZA STRIP HOSPITAL; ISRAEL SAYS ISLAMIC JIHAD'S 'FAILED ROCKET LAUNCH' TO BLAME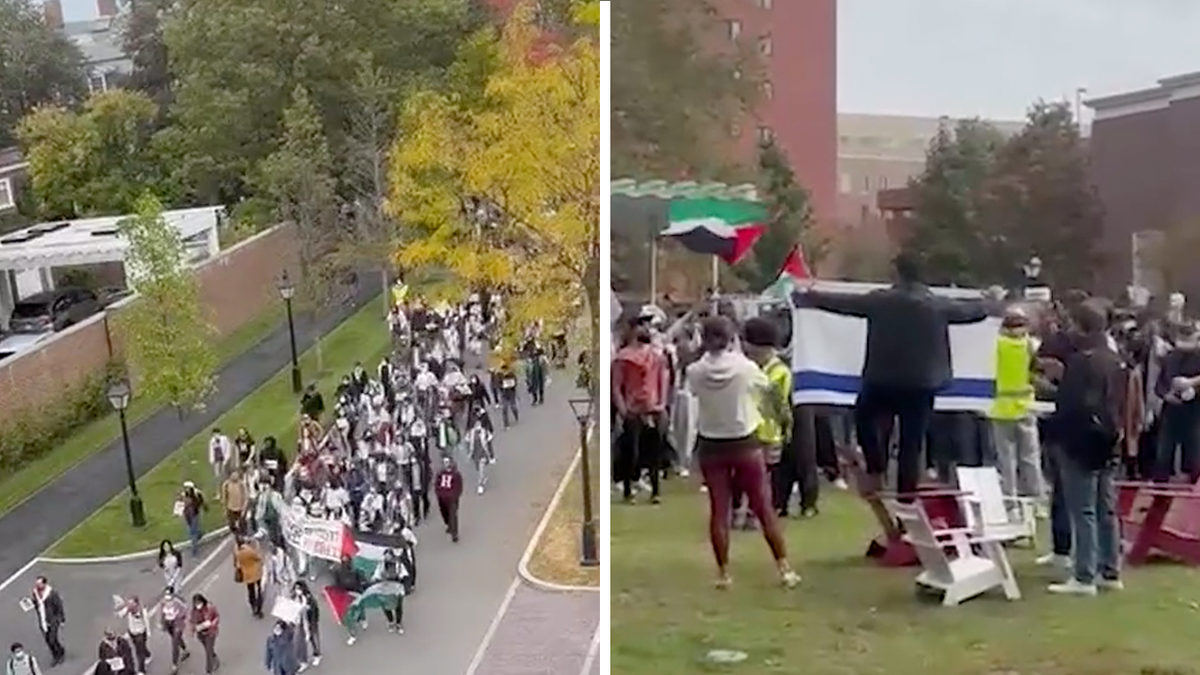 In a video shared to the Palestine Solidarity Committee's Instagram shortly after the rally, protestors could be seen performing their die-in on the business school grounds, which involved each protestor lying on the ground in solidarity the Palestinian people they accused Israel of murdering.
Posters advertising the die-in before the event revealed that student groups were motivated at least in part by Hamas' claim that Israel bombed a hospital in Gaza, killing hundreds of Palestinians.
One flyer read advertising the event read, "Protest and Die-In. Over 800 Killed by Israeli airstrike on hospital in Gaza. Demand an end to ongoing genocide."
Despite early media reports and American politicians repeating Hamas' claim that an Israeli airstrike struck the hospital and killed hundreds of innocent people, an Israeli Defense Force investigation stated that the explosion was the result of a failed Islamic Jihad rocket intended for Israeli targets that landed near the hospital in Gaza. National Security Council spokesperson Adrienne Watson said the Biden administration's current assessment is that Israel is not responsible for the explosion at the hospital. 
"While we continue to collect information, our current assessment, based on analysis of overhead imagery, intercepts and open source information, is that Israel is not responsible for the explosion at the hospital in Gaza yesterday," she wrote.
As the Harvard rally continued, it was met by pro-Israeli counterprotesters. More footage from a student videographer captured Palestinian supporters yelling, "Let Gaza live!"
One student holding an Israeli flag could be heard telling Palestinian supporters to have Hamas stop abusing innocent Gazans under their control. "Let them live! Go tell your terrorists to let Gazans live! You're right."
Pro-Palestinian students were heard shouting back, "You're the terrorists!"
'THE VIEW' CO-HOST CALLS OUT 'SQUAD' DEMOCRATS FOR ACCUSING ISRAEL OF ATTACK ON GAZA HOSPITAL: 'SHAME' ON THEM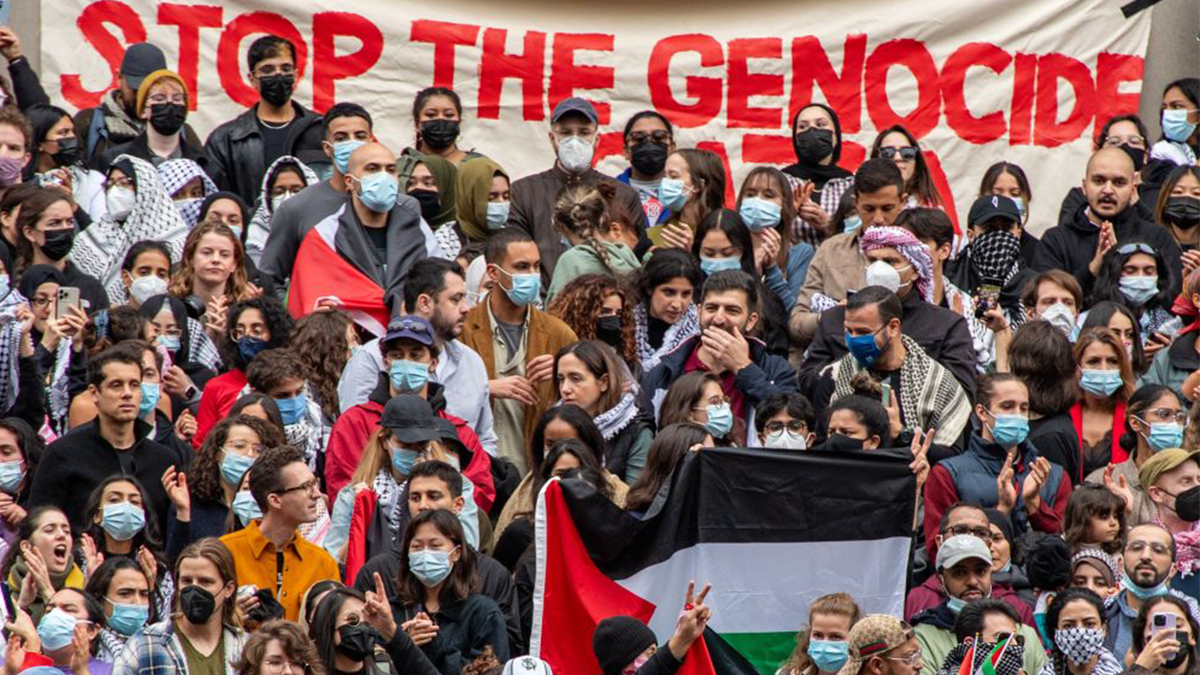 MEDIA ACCUSED OF PARROTING HAMAS' TALKING POINTS ON GAZA HOSPITAL BLAST, IDF SPOX SAYS TERROR GROUP 'LYING'
Another video shared on Harvard's Palestine Solidarity Committee's Instagram alleged that the students were protesting former President Obama's visit to the business school that day. 
Obama, who recently put out a message supporting Israel following the Hamas attack, canceled his trip to the school due to COVID-19 symptoms. He was set to appear at the launch of a new lab at Harvard Law School.
Harvard University has been the center of controversy ever since the Hamas attack on Israel, with pro-Palestinian student groups releasing a joint statement claiming Israel was "entirely responsible" for Hamas' attack. It said, "Today's events did not occur in a vacuum. For the last two decades, millions of Palestinians in Gaza have been forced to live in an open-air prison."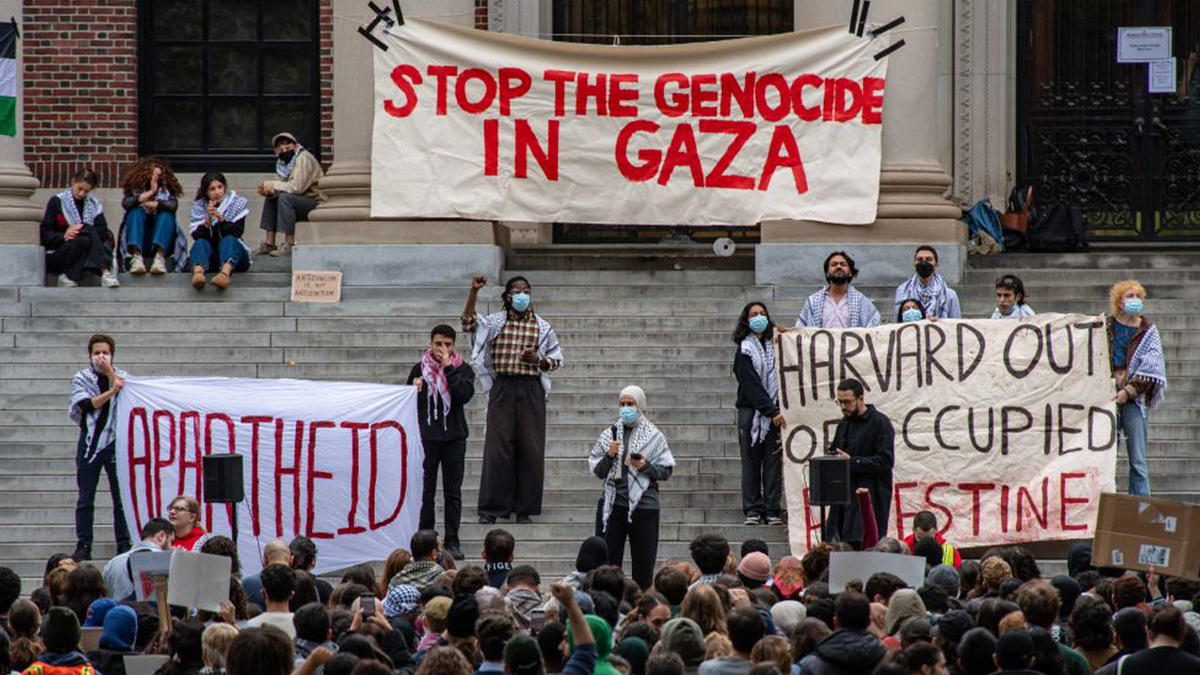 The letter prompted Harvard alumnus and billionaire hedge fund manager Bill Ackman, to demand Harvard release the names of the student member of the more than 30 student groups that signed the statement, so that he and other CEOs do not "inadvertently hire any" of them after graduation. 
Israeli billionaire Idan Ofer recently announced that he and his wife were resigning from the Harvard Kennedy School's executive board because of the school president not sufficiently condemning students over the letter. 
The pro-Palestinian student groups and Harvard University and its business school have yet to respond to Fox News Digital's request for comment. 
For more Culture, Media, Education, Opinion and channel coverage, visit foxnews.com/media
Fox News' Kassy Dillon contributed to this report.