While digital marketing strategies dominate the advertising world, there is still something powerful about using traditional methods to promote your brand. One such method is writing a book. Publishing a book can establish your brand's authority, showcase your expertise, and help you reach a wider audience. In this post, I'll share ideas on how you can effectively use a book to promote your brand and elevate your business to new heights.
10 Ways to Promote Your Brand with a Book
A book can be a great way to promote your brand, but only if you're strategic. From planning your book topic to writing to promoting it after publication, here are some tips to maximize your opportunity.
1. Define Your Brand Message
Before writing a book, it is important to define your brand message clearly. What do you want to convey to your audience? What sets your brand apart? Understanding your brand's unique value proposition will help you create a book that aligns with your brand's mission and resonates with your target audience.
2. Determine Your Target Audience
Identifying your target audience is crucial for crafting a book that attracts and engages the right readers. Consider the demographics, interests, and needs of your ideal customers. Tailor your content to address their pain points and provide valuable insights to benefit them.
3. Choose a Compelling Topic
You need to select a topic relevant to your brand that appeals to your target audience. It should be a subject that showcases your expertise and highlights your brand's unique value. Conduct thorough research to identify gaps in the market or areas where your book can provide a fresh perspective. Here are some steps to help you pick your non-fiction book idea:
Develop a Strong Concept
Start by brainstorming ideas and identifying a unique concept that sets your book apart from others in the market. Consider your expertise, passions, and the needs of your target audience. The idea should be original, relevant, and capable of generating interest and discussion.
Conduct Market Research
Before settling on your book idea, research the market to assess its viability and identify potential competitors. Look for similar books already published and determine how your book offers a fresh perspective or fills a gap in the existing literature. Highlight the unique selling points of your concept and explain why readers will be interested in it.
Outline the Book's Structure
Create a detailed outline of your book, outlining the chapters, sections, and key themes or arguments you plan to explore. This will help you visualize the book's structure and understand how the content will be organized. 
Describe the Concept of the Book
Clearly define the main topics or concepts you will cover. Write a concise and engaging summary of your book, highlighting its unique premise and the problem it addresses. Explain why readers would be interested in the topic and how your book offers a valuable solution or perspective.
Develop a Strong Title and Subtitle
Create a captivating and memorable title that accurately represents the essence of your book. Include a subtitle that provides additional context or highlights the book's key benefit.
4. Write a Good Book
Creating a compelling and valuable book is the key to a successful brand-promoting book. Offer insights, tips, and practical advice your audience can apply to their lives or businesses. Make your writing informative, entertaining, and easy to understand. Use plenty of real-life examples and anecdotes to illustrate your points and make a genuine connection with your readers.
Writing a book is hard work! If you need some ideas on how to stay inspired and productive during the process, check out my article How to Stay Motivated While Writing a Book.
5. Design an Eye-Catching Cover
A book's cover is its first impression and plays a vital role in attracting potential readers. Invest in a professional cover design that aligns with your brand's aesthetics and captures the essence of your book's content. A visually appealing cover will pique curiosity and encourage people to pick up your book.
6. Leverage Your Existing Platform
If you already have an established online presence, such as a website, podcast, private FB group, or social media following, leverage it to promote your book. Create buzz by sharing snippets, behind-the-scenes stories, and teasers about your upcoming book. Consider developing a video trailer for the book. Offer exclusive discounts or bonuses to your loyal followers to encourage pre-orders and generate early interest.
7. Seek Endorsements and Reviews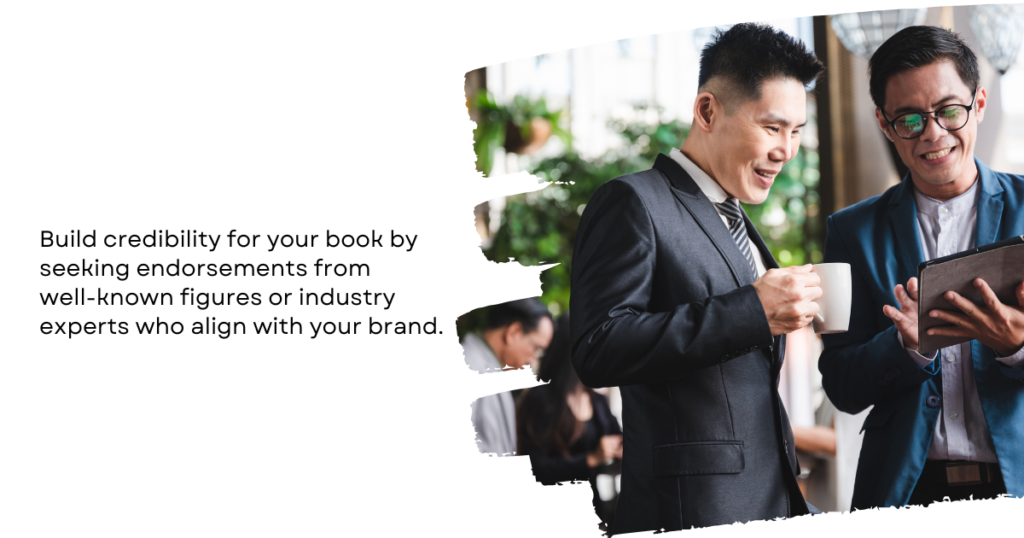 Build credibility for your book by seeking endorsements from well-known figures or industry experts who align with your brand. Reach out to influencers or thought leaders in your niche and offer them a complimentary copy of your book in exchange for an honest review or testimonial. Positive endorsements will enhance your brand's reputation and increase the book's visibility.
8. Plan a Book Pre-Launch Event
Organize a book pre-launch event to create excitement and bring together your network. The goal is to encourage pre-orders of your book. Host a live or virtual event where you can showcase your book, share insights from its content, and engage with your audience. Offer bonuses for those who buy, conduct an interactive Q&A session and use branded giveaways to make the event memorable.
9. Leverage Media and PR Opportunities
Use your book to secure media interviews, guest blogging opportunities, podcast interviews, and speaking engagements. Pitch yourself as an expert in your field, leveraging your book's content as evidence of your knowledge and authority. Always look for current events to develop a hook to get your foot in the door with the media. Ex: If you wrote a cookbook, pitch yourself for National Cookie Day to do a demonstration of one of your recipes.   
10. Continuously Promote Your Book
Don't let the momentum fade after the initial launch. Continue to promote your book through various channels for at least a year. Use social media, podcasts, guest articles on industry sites, and interviews. Offer value-added content related to your book to keep your audience engaged and interested in your brand.
Learn More about How to Promote Your Brand!
Using a book as a brand promotion tool can profoundly impact your business's success. It helps establish your authority, expand your reach, and create a lasting impression on your target audience. If you're ready to take your brand promotion to the next level, consider publishing a book that encapsulates your expertise and resonates with your ideal customers.
If you want to learn more about effective brand promotion strategies and gain insights from industry experts, register now for Brand in Demand Live, taking place Sept. 21-23, 2023, in Philadelphia, PA. It's time to get the spotlight that you deserve. Don't miss this opportunity to elevate your brand and propel your business forward!