It seems like a new social network pops up every month, and you're missing out. If you feel this way, you're not alone. 
Social media is evolving with new social platforms, features, and usage trends. For small business owners, it can be challenging to keep up with the latest social media trends and successfully manage social media. 
As you're tuning up your marketing strategy, our guide to the top marketing trends on social media will get you up to speed on the social media landscape. 
There are several key social media trends to note in 2023. They will help you to optimize your content marketing and engagement on various social media channels. 
Top social media platforms 
Based on the average number of active monthly users, the top social media platforms are Facebook, YouTube, and WhatsApp. 
| Social Network  | Number of active monthly users (billions) |
| --- | --- |
| Facebook | 2.95 |
| YouTube | 2.51 |
| WhatsApp | 2 |
| Instagram | 2 |
| WeChat  | 1.3 |
| TikTok  | 1.05 |
Trends in Video Content
TikTok: The king of short-form video
One of the top social media trends is short-form video. 
TikTok is now a popular social platform, especially for younger generations. The app grew tremendously in 2022, exceeding 1 billion active users globally. TikTok's users doubled from 2020 to 2022, surpassing other social media platforms.
In addition, TikTok's short videos are popular with social media users. A February 2023 study by Insider Intelligence found that US adults spend about 56 minutes daily on TikTok.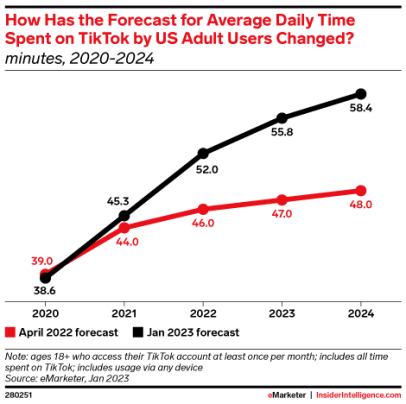 This study reveals that creative marketing efforts engage the general TikTok community. Using a mix of hashtags, shorts, and audio tactics can expand your reach beyond the younger demographic (millennials and Gen Zs).
Small businesses should develop the habit of regularly posting on TikTok. Even businesses that are not a good fit for the app can find creative ways to use TikTok for marketing and brand awareness.
And it's not all fun and play. Content creators earn their livings reviewing and sharing their hot takes on products and services. On the other side of the coin, brands reach a highly engaged audience to drive more product sales. 
Social platforms continue to add more business capabilities. It's common for utilities like clickable shopping links, integrated payment options, and ads integration to be included. These functions enable customers to do business without leaving the platform. Enabling them on your social media profiles enables your followers to find and purchase your products.
Rise of vertical video
Vertical video that is optimized for mobile users continues to rise across social apps. On TikTok and Reels, the vertical format consumes the entire phone screen. Instagram even allows users to post vertical photos natively.
Small businesses need to adjust short-form video content for vertical formats because many people access social media from their smartphones. Shorter vertical videos feel more immersive and command greater attention. The TikTok style of quick cuts and text or graphic overlays works well.
But don't completely abandon landscape formats. You should use both vertical and horizontal orientations for different contexts. Even so, new video content should focus on the mobile-first vertical.
Live streaming and video content surge
Last year, most social media platforms experienced a surge in live and pre-recorded video content. Creators and brands alike engaged users with entertaining video content—fueled partly by algorithms that keep delivering content most likely to be consumed.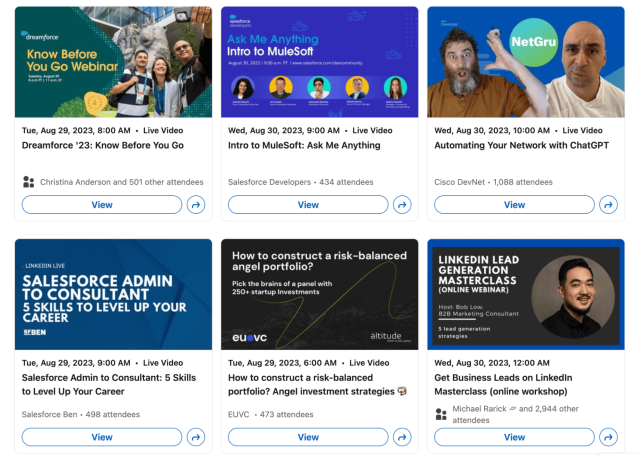 No doubt, video remains an effective way to showcase walk-through services and portray company culture. Live streaming gives a raw, unedited look into your brand. From product launches to behind-the-scenes, going live allows engagement with customers in real-time. 
Videos that are less than one minute in length do well on TikTok and Instagram Reels. As video content grows in 2023, brands must create engaging videos for social apps.
Trends in Search
Increasing importance of local searches
While visual content is rising, optimizing content for search engines remains crucial. 
People on social media still use Google and other search engines to reach ecommerce sites. Over 20% of sales occur online, so ensuring that your business appears in relevant local searches is critical to driving traffic and conversions to your site.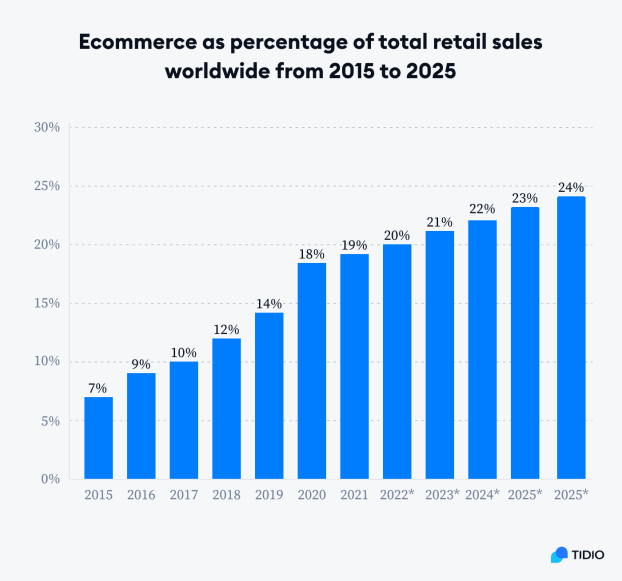 Small businesses should begin by building local SEO staples like a Google Business Profile (formerly known as Google My Business). As they expand, more efforts can be directed toward writing blog posts and other engaging, informative content.
Google has been making rapid changes to search results lately. Local businesses should focus on making themselves appear within a "Local Pack" that features business profiles, online reviews, and location information. These are a big deal — they consume more "square footage" on the results page above the organic results. According to Semrush, they appear in 22% of searches. 
In addition to your social media content creation efforts, incorporate relevant keywords that customers will use to find you. Adding videos and images helps earn more search traffic to your social media posts. While not directly related, social media strategies support content distribution. 
Artificial intelligence fuels innovation in online searches
Beyond local searches, massive changes are coming to how people will search with Google or Bing with help from artificial intelligence (AI). 
Search Generative Experience (SGE) aims to provide the most personalized results with conversational answers to people who are seeking recommendations. Succinctly, this means business owners need to rethink how they approach organic searches and produce the highest quality content that meets visitor intent, even if it's particularly narrow. 
If you haven't already done so, ensure that you've verified your website on Google Search Console and Bing Webmaster Tools so you can monitor how well your site appears in organic searches. 
Screenshots of Google Search Console (left) and Bing Webmaster Tools (right)
Trends in Social Media Content
Emphasis on Brand Humanization
Consumers increasingly demand authenticity from brands on social media. Strategies that only focus on sales messages seem to be the old-fashioned way to connect with target audiences.
Share your brand's story with team members so they can repackage your brand story when talking with others. Engaging with customers and showing behind-the-scenes activity will create a sense of approachability.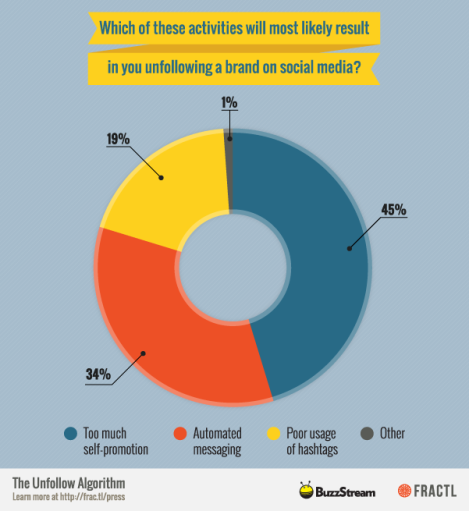 People like brands that support social issues and causes. So, showing values such as diversity and inclusion connect with customers' beliefs.
When humanizing your brand, be careful not to overdo it. According to BuzzStream, 45% of customers unfollow a brand because of "too much self-promotion." If you only promote your brand, customers will quietly ignore you.
Balancing selling with humanization is vital for small businesses on social media. Focus more on relationship-building than promotions alone.
Influencer marketing takes center stage
Influencer marketing continues to be a powerful channel for brands. Partnering with your niche's nano- and micro-influencers and experts can expand your reach.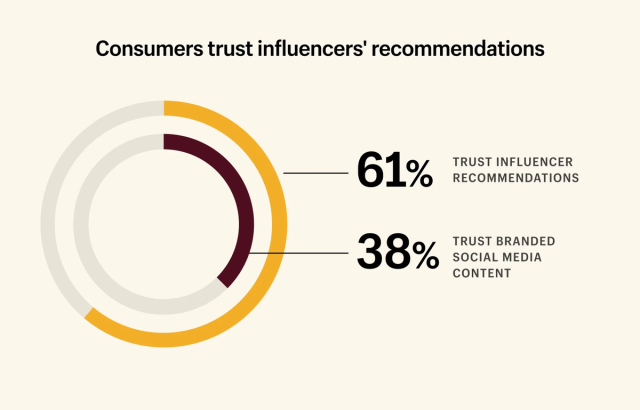 Due to high user trust in influencers, their organic recommendations convert well. Smaller influencers typically have greater engagement and more approachable pricing. Look for influencers who align well with your brand values for authentic co-marketing.
Quality content and hashtags in your social posts help tap into existing communities. An omnichannel strategy that balances your channels with influencer outreach is necessary, as it creates a multiplier effect for driving brand awareness.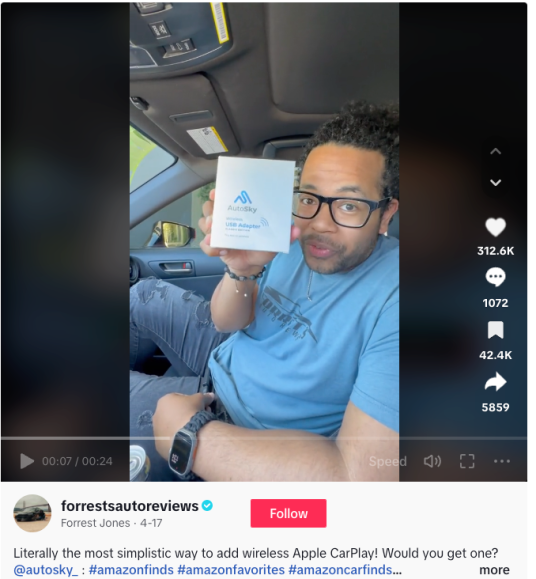 Incorporating user-generated content
User-generated content (UGC) builds social proof and credibility for brands in an authentic manner. Your customers create the most interesting content about your business. This includes things like reviews and sharing on social media.
Making UGC an integrated part of your strategy can increase engagement and conversions. Your followers want to see real customers enjoying your brand in action. They resonate more than polished, stock-style images.
Ways to encourage UGC include running contests, creating branded hashtags, and leveraging reviews. Be sure to get the user's permission before re-sharing their content. Also, proper crediting and attribution are a must. When featured appropriately, UGC shows tangible social proof.
The 'Story' content format works
As a social media trend, the Story feature, used across multiple platforms, is still a great way to share timely content and boost engagement. The format allows sharing things that are relevant at the moment versus permanent posts. 
Stories expire quickly, making your promotions and events feel exclusive and urgent. Maintaining an active presence keeps your brand top of mind. Use creative templates and editing to make Stories better than basic phone videos. Quality wins over quantity in this area.
Leverage Stories for deals, product launches, event updates, and employee takeovers. The casual format feels authentic for behind the scenes. Interactive options like polls and questions encourage viewers to respond actively.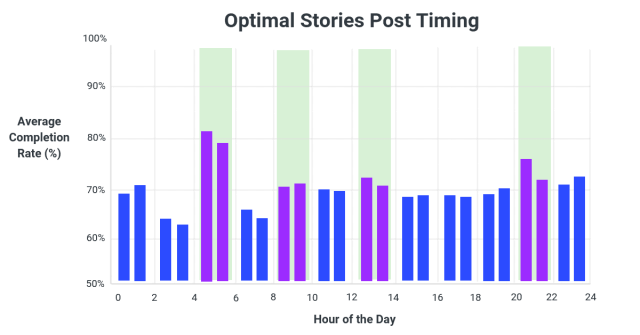 Many social media platforms, including Facebook, have redesigned their apps to replicate Instagram's Stories feature because of its ability to grab the attention of social media users.
The metaverse and augmented reality
On the horizon, the metaverse and augmented reality (AR) present new opportunities for social media marketing. As virtual worlds become mainstream, brands can establish their presence.
Early metaverse activations include virtual storefronts and meeting experiences like the one shown below of Microsoft and Meta. It's still a bit too early, but with upcoming VR headsets from Apple and Meta, don't completely write this off.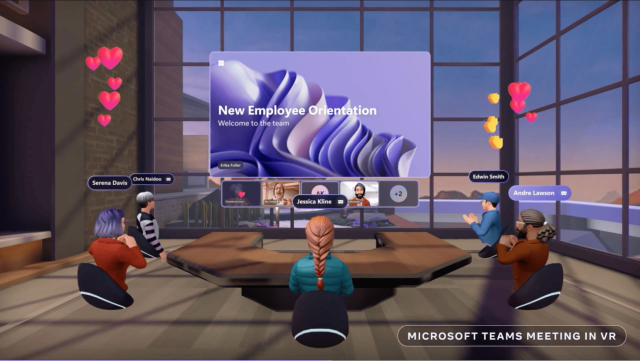 Larger businesses can use AR for social commerce by adopting it in showrooms and virtual stores. They can also create custom-branded filters on Snapchat and Instagram. Offering AR experiences allows customers to view products in their actual environments before they purchase.
For small businesses, the metaverse social media trend is less fruitful. Facebook and Apple are developing plans to bring a digital universe to everyday life—but we're a long way from that today. 
To future-proof your strategy, explore how emerging technologies position your brand as a leader, not a follower. Being an early adopter also lets you stay ahead as your company grows.
This social media trend is emerging but not yet mainstream. So, we don't recommend making this the cornerstone of your social media strategy. 
Aim for brevity in social media content
The content overload on social media has users scrolling past anything that doesn't immediately grab their attention. This puts a premium on concise video content that delivers value quickly.
For businesses, this means that concise writing and editing are crucial. Here are some tips for writing something catchy for your audience:
Blog-style, long paragraphs don't translate: Save longer posts for blogs and IGTVs.
Use bullet points: Lists make content more scannable.
Ensure quality graphics: Images and videos should be eye-catching and high-quality on visual platforms like Instagram.
Direct captions: Clear and clever captions reinforce your message. 
Well-designed, snappy quote cards: This works well for driving thought leadership.
Recap: Noteworthy Social Media Trends In 2023
Beyond trends, specific platform updates also impact digital marketing tactics:
Twitter rebrands as X. Twitter's rebranding to X will likely require businesses to change their website Twitter bird logos. The impact on companies with a social media presence on the app remains to be seen.
Facebook Threads. Though built off Instagram, it presents an environment that is similar to Twitter. Instagram users on Threads usually like photos and videos, but the app is subject to experimentation. However, as Jack Appleby states in his newsletter, a winning brand strategy on Twitter should also work on Threads. 
Instagram ads: Ad placements in reels and Stories are gaining prominence. Recently, IG added more shoppable ad formats like carousels and longer videos. 
YouTube Shorts: Short-form vertical video views skyrocketed. YouTube made creating and optimizing Shorts easier for more content.
LinkedIn videos: LinkedIn is embracing more video content with platform upgrades. Creators can reach business audiences with bite-sized videos.
Pinterest Story Pins: Story Pins are a vital component of Pinterest. They combine many pages with mixes of text, images, and video for visual storytelling.
Spotify podcast ads: You can reach podcast listeners with targeted ads using Spotify's streaming ad platform.
How Businesses Can Stay Ahead
With social media's rapid pace of change, staying agile and adaptable is vital for brands. Here are tips for small businesses to effectively integrate the latest:
Commit to learning: Continually browse social networks to understand users' interactions and identify channels worth prioritizing. Use social listening and social media management tools to analyze conversations about your brand and target audience.
Schedule flexibility: Build a buffer room to test new formats as they emerge. Don't lock yourself into rigid plans, because the market is evolving.
Focus on quality: Balance posting frequency with ensuring excellent content. Highly engaging, creative content will consistently outperform quantity alone.
Understand the experience: Before going all-in with marketing content, take the time to appreciate the surroundings. Discover what people like about the social platform before subjecting it to sales and marketing campaigns. 
Partner strategically: Collaborate with savvy creators and partners to expand reach while ensuring that the brand values align. Seek out credible publishers and consider partnerships or, at a minimum, get inspired by what works to elicit engagement and trust. 
… Social media trends will continue to evolve whether you like it or not.
The good news is that you don't need to follow every trend. Consider your audience's needs and desires and use data to adjust. Trends that flopped include Clubhouse for social audio, NFTs following the pandemic, and other overly ambitious blockchain-powered ideas.
The bottom line is that sharing your brand's voice and story across social media in an authentic way helps you to rise above the rest, regardless of the format or platform. 
You will see positive returns across today's social media platforms with consistent effort. The algorithms reward the businesses whose posts make people stop, like, comment, and share. What will you publish that does that?