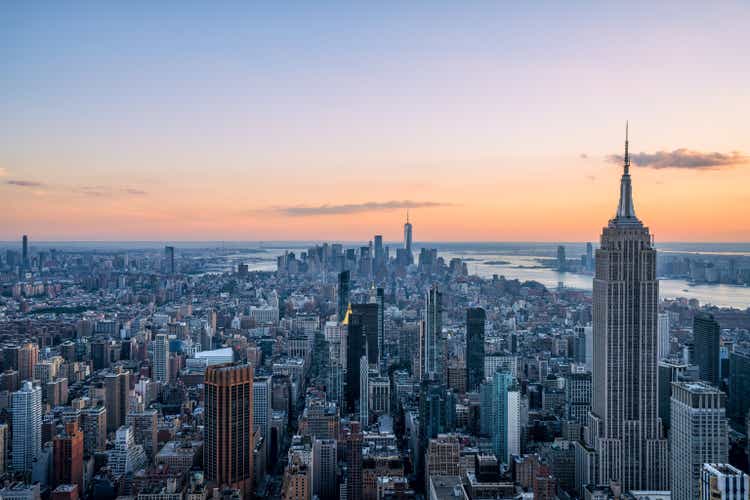 Securities-industry jobs in New York City are at the highest level in more than two decades, though a decline in financial firms' profits could adversely affect this milestone.
Indeed, as of August 2023, Manhattan's securities industry accounted for 195,100 jobs (18.1% share of industry jobs in the U.S.), according to a recent report released by New York State Comptroller Thomas P. DiNapoli. He noted the significant increase in headcounts stemmed from record profits in 2021, when borrowing costs were pulled down by the Federal Reserve to near-zero in the wake of the Covid-19 pandemic.
But, when the U.S. central bank embarked on its tightening cycle in March 2022, "the industry returned to more typical levels of profitability," the report said. "Higher rates caused financial firms' interest liability on outstanding debt to rise substantially, while further access to credit was constrained."
What's more, the higher rate environment combined with market volatility and an uncertain economic outlook weighed on deal-making volume. That has prompted New York-based financial heavyweights such as Goldman Sachs (GS), Citigroup (C) and Morgan Stanley (MS) to reduce headcount.
"Whether firms will retain these additional positions as profits return to normal remains to be seen," the Thursday report cautioned.
For the first half of 2023, Wall Street's profits retreated 4.3% Y/Y to $13B, in line with prepandemic levels, according to the report. Also, in the past two years, revenues from commissions and underwriting activities have dropped 46.8%, given a higher cost of credit that has hindered debt and equity issuances and mergers and acquisitions.
"These are volatile times in America and globally, and Wall Street's relatively stable profits and employment levels could change quickly," DiNapoli said in a statement. "Further declines could weaken New York's tax revenue from the securities industry and have repercussions for our state and city budgets."
The report showed the industry contributed $5.4B to the city's tax revenue in fiscal year 2023 (7.5% of total revenue), compared with $6.4B from the previous year.
Meanwhile, three of Wall Street's biggest banks, including JPMorgan Chase (JPM), Citigroup (C) and Wells Fargo (WFC), on Friday turned in stronger-than-expected earnings for the third quarter, but management warned investors of higher capital requirements, rising credit losses, among other growth risks.
For the period, JPMorgan Chase (JPM), the biggest lender in the U.S., saw its net interest income hit another record and its provision for credit losses came in lower than consensus. But CEO Jamie Dimon said both factors will "normalize over time," given a number of uncertainties that could weigh on profits in the future.
Related muni ETFs: iShares New York Muni Bond ETF (NYF), Invesco New York AMT-Free Municipal Bond ETF (PZT), First Trust New York Municipal High Income ETF (FMNY), Nuveen New York AMT-Free Quality Municipal Income Fund (NRK).
More on Citigroup, Goldman Sachs, etc.