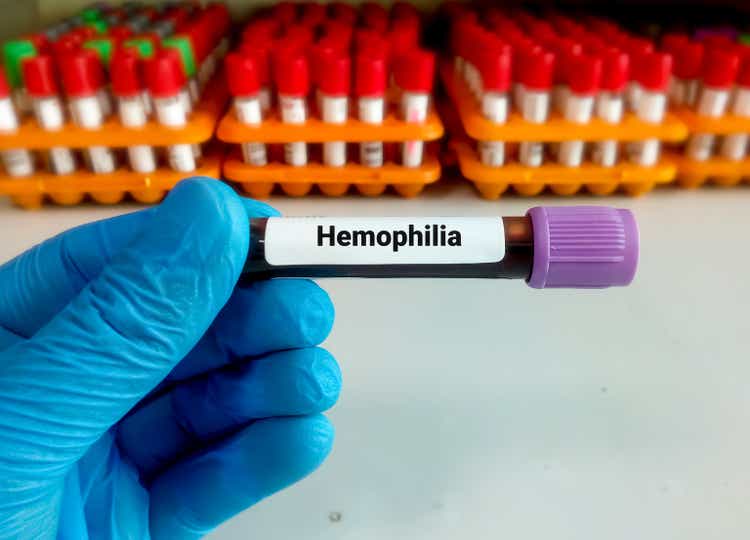 The European Medicines Agency (EMA) has accepted and validated Swedish Orphan Biovitrum's (Sobi) (OTCPK:BIOVF) application seeking approval of hemophilia A therapy efanesoctocog alfa.
Sobi and Sanofi (NASDAQ:SNY) have a collaboration for efanesoctocog alfa, which was approved under the name Altuviiio in the U.S. in February for as a once-weekly routine prevention, on-demand treatment and control of bleeding episodes, and perioperative management of bleeding in adults and children with hemophilia A.
Hemophilia A is a genetic bleeding disorder caused by insufficient levels of a blood protein called factor VIII, which helps in clotting of blood.
Sobi said on Friday that the marketing authorization application was backed by data from a phase 3 trial called XTEND-1 in adults and adolescents and a phase 3 study, dubbed XTEND-Kids, in patients <12 years of age.
Efanesoctocog alfa, if approved, will face competition from Swiss pharma giant Roche's (OTCQX:RHHBY) (OTCQX:RHHBF) hemophilia A therapy Hemlibra.
Takeda (TAK), Bayer (OTCPK:BAYZF) (OTCPK:BAYRY), and Novo Nordisk (NVO) (OTCPK:NONOF) have been marketing factor replacement therapies as standard regimens for the indication.
"Today's announcement may represent a crucial step towards improving the lives of people with haemophilia A through a potential new treatment option," said Tony Hoos, head of Research & Development and chief medical officer, at Sobi.
Sobi noted that it has development and commercialization rights in Sobi territory, which consists of Europe, North Africa, Russia, and most Middle Eastern markets. Sanofi has development and sales rights in North America and all other regions excluding the Sobi territory.
Sanofi: The Growth Engine Is Slowly Picking Up Steam
Novo Nordisk: Moving From Strength To Strength