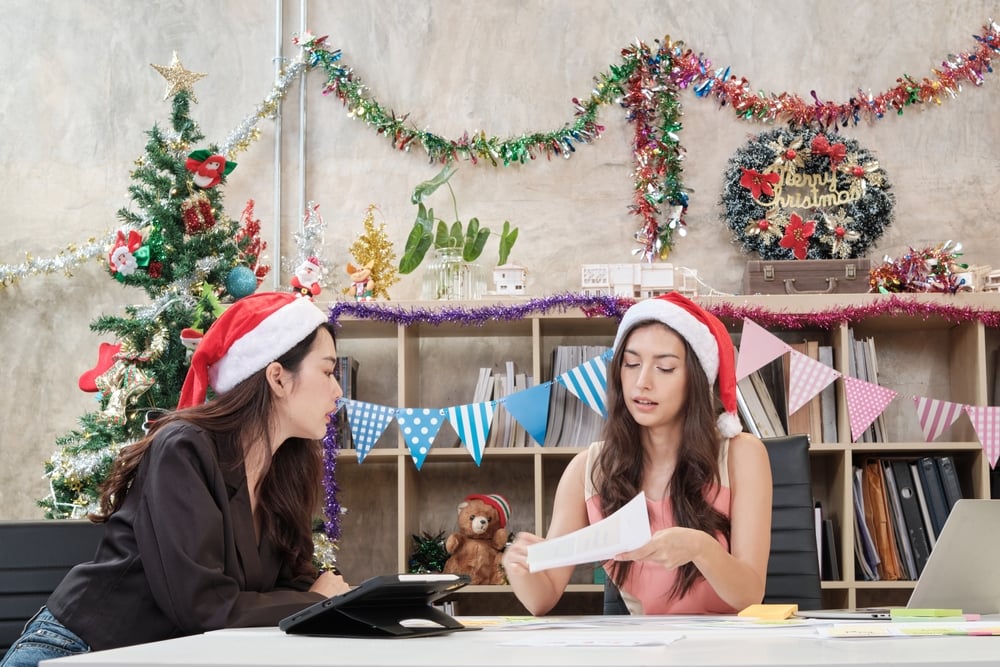 You're reading this in early September when the winter holidays are still around three months away. But if you're an e-commerce or B2C company, you need to start thinking about the holidays in August at the latest because, if the winter holiday season is the key to your success, planning is everything.
So why would we suggest adding business coaching and shifting your company culture to your plate during the winter months?
Hear us out.
Two-Step Great Game Process
The Great Game of Business is a paradigm shift that states open-book management is an intentional choice to run your company according to certain principles of transparency. First, we coach your business on what this is like. Then, it's up to you to implement and continue that way of thinking and doing.
So, business coaching happens when our team helps you to recognize the benefits of open-book management. After that, you take the wheel and move the ship forward.
Winter months (which, for our purposes, are December, January, and February) are perfect for both aspects of business coaching.
The Most Wonderful Time of the Year
We're the first to admit the holidays are hectic. Kids have almost two weeks off from school. There are travel plans. Driving. Flights to catch. Canceled flights to rearrange. Christmas bonuses. Santa Claus. Shopping, shopping, and more shopping. And there's the food. Even the best-laid plans can go awry during the holidays.
But, holiday times are memorable. You wouldn't trade the pleasant, happy memories of late November to late December for anything. Happy children, smiling parents, reminiscing, and festive gatherings all give you an emotional connection to fond memories you'll cherish for decades.
It's these memorable moments that make business coaching ideal for December. Why not create a festive atmosphere surrounding the winter holidays for your staff? Rather than focus on the hectic holiday season, leave a memorable impression by taking a day off in December to do something different. And make sure to serve a delicious lunch or have holiday snacks. And make sure you have an ugly sweater contest, too. 
Because the winter holidays are memorable, business coaching can leave a lasting impression on you and your staff. If you're starting the process of a paradigm shift towards open-book management, make it memorable with a day dedicated to the beginning of your great game. Trust us. It will be fun for everyone!
Budgeting Windfalls
By the time Q4 starts, you will have a good idea of what your budget will look like as you conclude the calendar year. While not every business uses the calendar year as a fiscal year,  chances are good your company budgeting starts in January and goes to December, while shorter budgeting periods happen monthly and quarterly.
If you see some extra budget heading into the final quarter of the year, why not earmark some of that towards improving your business model? 
Open-book management is an investment in your most important asset: Your workforce. When you're transparent with everything in your business model, it fosters better employee retention, for starters, and better employee engagement long term.
So, if you're looking for a way to reinvest in your company, business coaching offers a way to do that. Even better, you could lower your tax liability before doing your taxes in the spring because business coaching is a professional development expense. Keep your receipts to show the IRS in case you get audited.
Keep Momentum Going After the Winter Holidays
The time between the winter holidays and Valentine's Day often has a lull, not just for people but for companies. Consumer behavior often pulls back for a few months at the beginning of the year. 
However, you typically finalize your next quarterly or annual budget in the previous quarter. So, if you're budgeting for 2025, you would finalize those numbers in Q4 of 2024.
Investing in a business coach in January or February is the perfect way to kick off your new budgetary year. Your quarterly or annual budget is already in place. Earmark some of your new budget for business coaching.
New Year = New Culture
The new year represents a time of renewal, rejuvenation, and resolutions. Rather than spending the month of January resolving to do 10 things you'll never get to, set your goal for accomplishing one thing that can have a lasting impact on your company and your employees.
The Great Game of Business is more than just coaching. It's teaching you and everyone in your company about an ownership culture. Everyone, from the general manager to an entry-level employee, is empowered to have a stake in the outcome of their work.   
We also teach you why open-book management and transparency are cornerstones of having an entrepreneurial spirit from everyone on staff. Since January and February are slow times for many businesses, use this lull in the action to take care of professional development. If your staff isn't already busy fulfilling orders or onboarding new clients, set aside time to transform your corporate culture.
You'll be glad you did. 
If Not Winter, Then When?
Your employees' families return to their normal routines in January after the winter holiday break. Flu season generally does peak until February, so the odds of many people being out sick in January is lower. February has the Super Bowl, then Valentine's Day, followed by March with spring break. Summer isn't the best time because families go on summer vacations. Q3 may not be ideal if you're in the middle of planning for winter holiday ramp-ups. 
January might be the best month for scheduling business coaching based on your workload for the rest of the year. You don't have to make it about a New Year's resolution. But there is a natural break in the hectic schedule (unless you're an accountant who does taxes) when it's prime time for a new work culture. 
Book a Coaching Call Today
Winter time offers the perfect opportunity to renew your workplace culture with business coaching to teach you and your staff about open-book management practices and how it benefits people and profits.
Get personalized coaching from the Great Game of Business today!