Customer feedback management is one of the most powerful tools in your marketing arsenal.
Collecting customer feedback and integrating that insight into your product or service allows you to relate to your target audience — but only if you do it correctly. 
Here, we explain how managing customer feedback can make or break your business and share helpful best practices on what you can do to make your customer feedback work for you — not against you. 
What Is Customer Feedback Management?
Customer feedback management is the process of collecting feedback from existing customers and using it to improve your business offering.
There's no shortage of customer feedback these days, with 74% of consumers saying "they've left an online review for a business in the past year." 
As such, customer expectations are higher than ever, meaning you must dial in your customer feedback management processes.
Monitoring your brand's feedback means building an effective customer feedback loop, in which you're constantly assessing your service from the eyes of your clients and striving to implement their praise or criticism to enhance or pivot your offering. 
Examples of Customer Feedback
Your customers can leave feedback in many different places and many different mediums.
Being aware of where to find your customer feedback will help ensure you have the clearest picture of your customer journey possible.
Social media – Social media platforms are places where customers share feedback and interact with one another. You can locate, collate, and manage feedback from these platforms, while also interacting directly with your customer base for business reputation management.
Reviews – Review sites help potential clients "make better choices and encourage companies to up their game." This feedback is public, and new customers use it in their decision-making process, so being on top of this feedback is vital for your public perception.
Customer surveys – Customer feedback surveys are personal opportunities for your business to collect feedback from your focus groups. By asking the right questions in a well-crafted customer survey or customer interview, you can get to the core of your customer needs and earn the qualitative feedback you need to nurture your customer relationships.
Call recordings – With call center monitoring, you can listen to raw customer feedback and hear how your team handles it. Nine out of 10 consumers are more likely to make another purchase after a positive customer support experience. This means having a well-trained customer service team will improve customer feedback management and increase the likelihood of repeat purchases.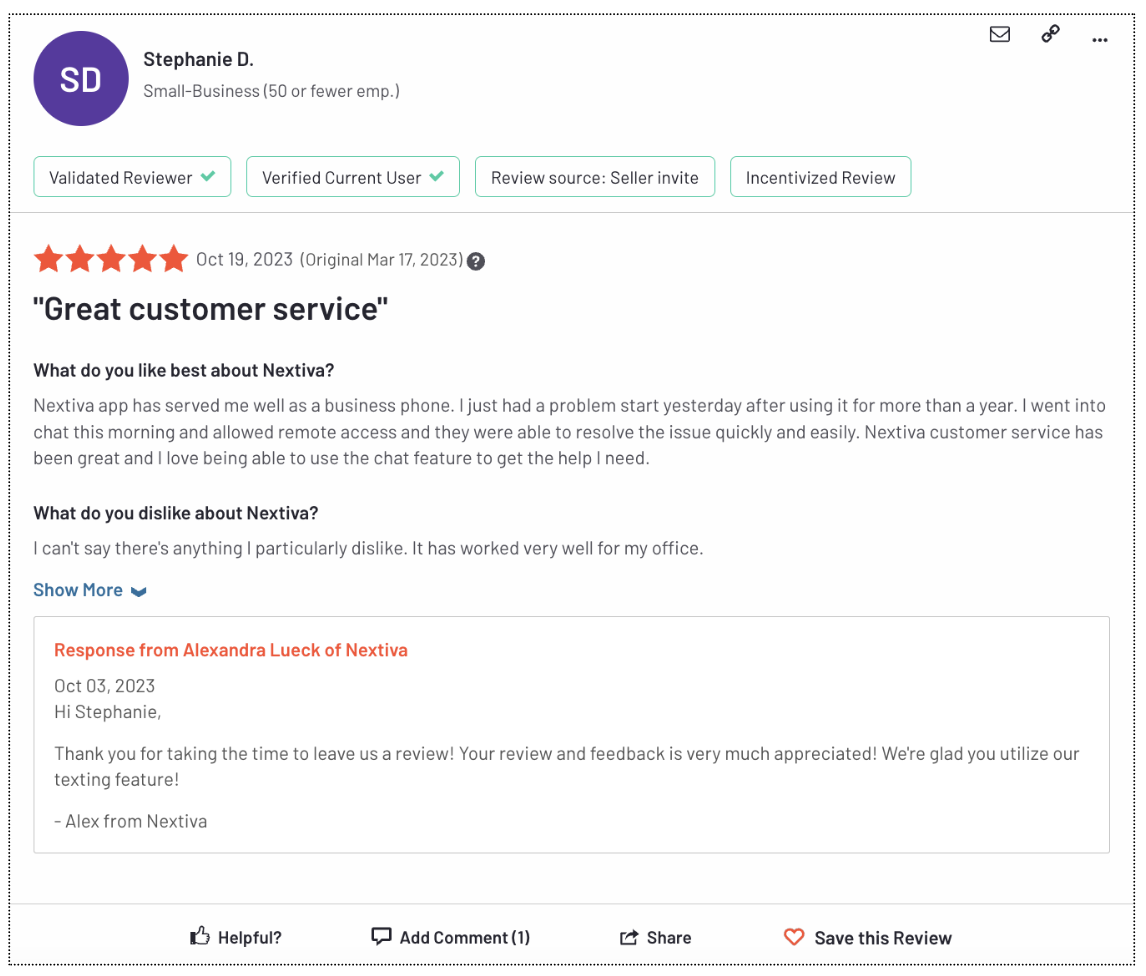 Benefits of customer comments
Consumers view brands more favorably just by seeking and acting on customer feedback, per a 2017 study by Microsoft.
The mere perception that you, as a business, listen to your clients improves your standing in their eyes. It will boost customer loyalty, and if you take feedback onboard appropriately, you'll improve your product or service functionality as well.
Other benefits of customer comments include:
Generates in-depth customer reviews: Customer comments offer authentic insights into their experiences and satisfaction levels with your offering. When shared publicly, these reviews act as social proof, which helps build trust with potential customers.
Improves your product or service offering: You can use customer feedback to identify areas for improvement in your products or services, creating a feedback loop that helps you better meet customers' needs.
Provides upselling opportunities: Satisfied customers are often open to exploring additional products or upgraded services, contributing to increased revenue.
Offers more opportunities to engage with, and retain, at-risk customers: Engaging with at-risk customers who have had negative experiences or concerns helps you resolve issues. This can prevent churn, enhance customer relations, and develop a positive brand image.
How to Manage Customer Feedback
Depending on the type of feedback, there are different ways in which you can manage your customer feedback data.
Handling critical customer feedback 
With critical customer feedback or negative feedback, it's essential that you do not engage in an argument on the internet. That's rule #1 of responding to negative reviews.
There's a very good chance that an unhappy customer is in a heightened emotional state, so being empathetic, expressing gratitude, showing you understand their pain point, sticking to the facts, and striving for resolution are your best courses of action.
It's important to get the discussion away from the public eye and to your internal customer service team, so elevating the service issue to internal staff should be one of your first courses of action.
Make sure you pay attention to what the customer has to say because, as hard as it may be, negative feedback is where the growth happens.
Take what the customer is saying onboard, try to recognize any patterns in other negative feedback, and make adjustments.
Responding to positive customer comments 
As nice as it is, positive feedback doesn't provide your business with the opportunity to improve in the same ways negative feedback does. However, if you engage with positive reviews optimally, they do offer a great chance to show other potential customers that you're a good decision.
So, engaging with the reviewer, being warm, and, importantly, not exaggerating the feedback is important.
It's also great if you can try and share customer success stories across multiple channels, so get the reviewer to post on other platforms, and spread the good word to get as many potential customers seeing your positive reviews as you can.
Directing neutral product suggestions 
Neutral suggestions, while not quite as detrimental as negative feedback, can harm your public perception if you don't manage them well. 
Neutral means the customer wasn't impressed — they merely weren't upset. For this reason, try and dig further into the neutral feedback. Find out what they liked and didn't like, and how their experience could be improved so they leave positive feedback next time.
As with negative feedback, share this information with your product team/research and development team so improvements can be made where necessary.
Building a Scalable Customer Feedback Loop
Your customer feedback loop is where you take customer feedback and turn those reviews, opinions, and suggestions into actionable points that you can apply to your business and improve your service.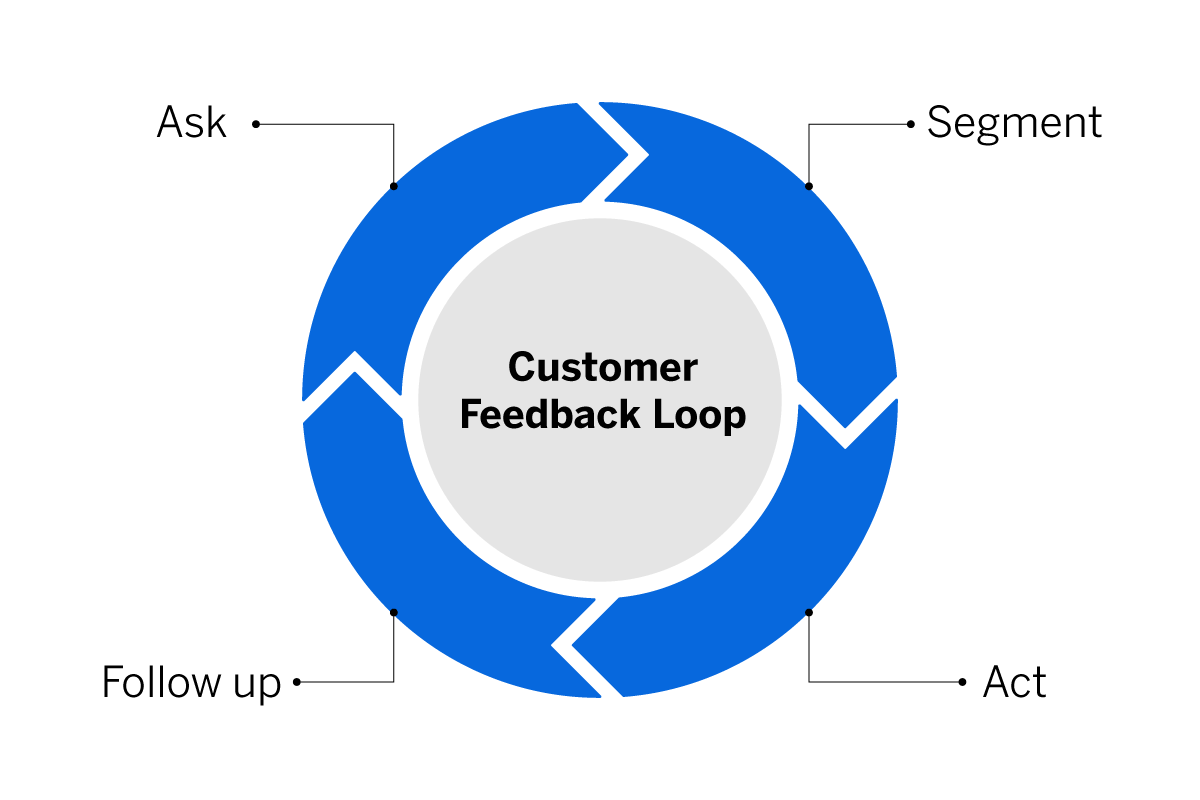 A standard customer feedback loop is divided into four stages:
Collecting customer feedback. 
Analyzing feedback and turning it into data. 
Applying feedback and testing. 
Following up with customers. 
On a small scale, this would involve, for example, tracking feedback from review sites and social media accounts, then creating a list of feedback and manually adding it to a spreadsheet. Then, categorize feedback into "positive," "neutral," and "negative."
Look for patterns that arise and prioritize action steps to implement any necessary changes to your product development or service. Then, track metrics such as customer churn, customer retention, and new product uptake to get an idea of how the changes you're implementing are improving your user experience.
At scale, there are customer feedback tools that become necessary to automate this process, ensuring no piece of feedback slips through the net and goes unnoticed.
Tools to Capture & Manage Customer Feedback
1. Nextiva
Nextiva offers an AI-powered online reputation management platform, which helps businesses of all sizes monitor feedback channels and customer interactions and manage customer feedback touchpoints across 50+ review sites, including Google, Facebook, and Yelp.
By collating all customers' opinions and reviews into a single dashboard, Nextiva's suite of customer service tools helps businesses engage with reviewers automatically or respond in real time.
With review-processing capabilities that turn reviews into data points, Nextiva offers your business actionable insights backed by proven information that can enhance your business offering.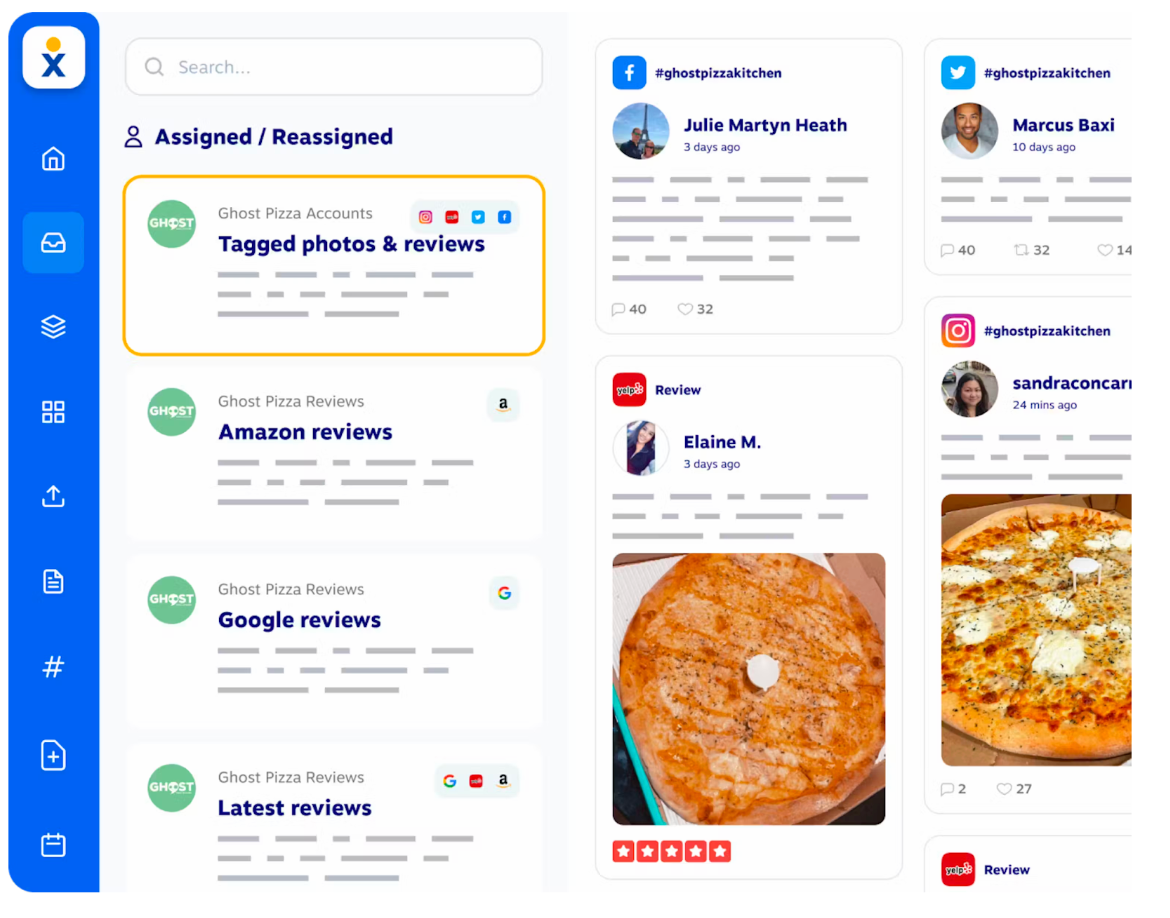 2. Chameleon.io
Chameleon is a feedback management tool that offers you the opportunity to create customer satisfaction surveys that can drive in-product engagement while also integrating with your tech stack to gather contextual feedback with in-app surveys.
This helps businesses build an effective feedback loop, giving customers what they desire.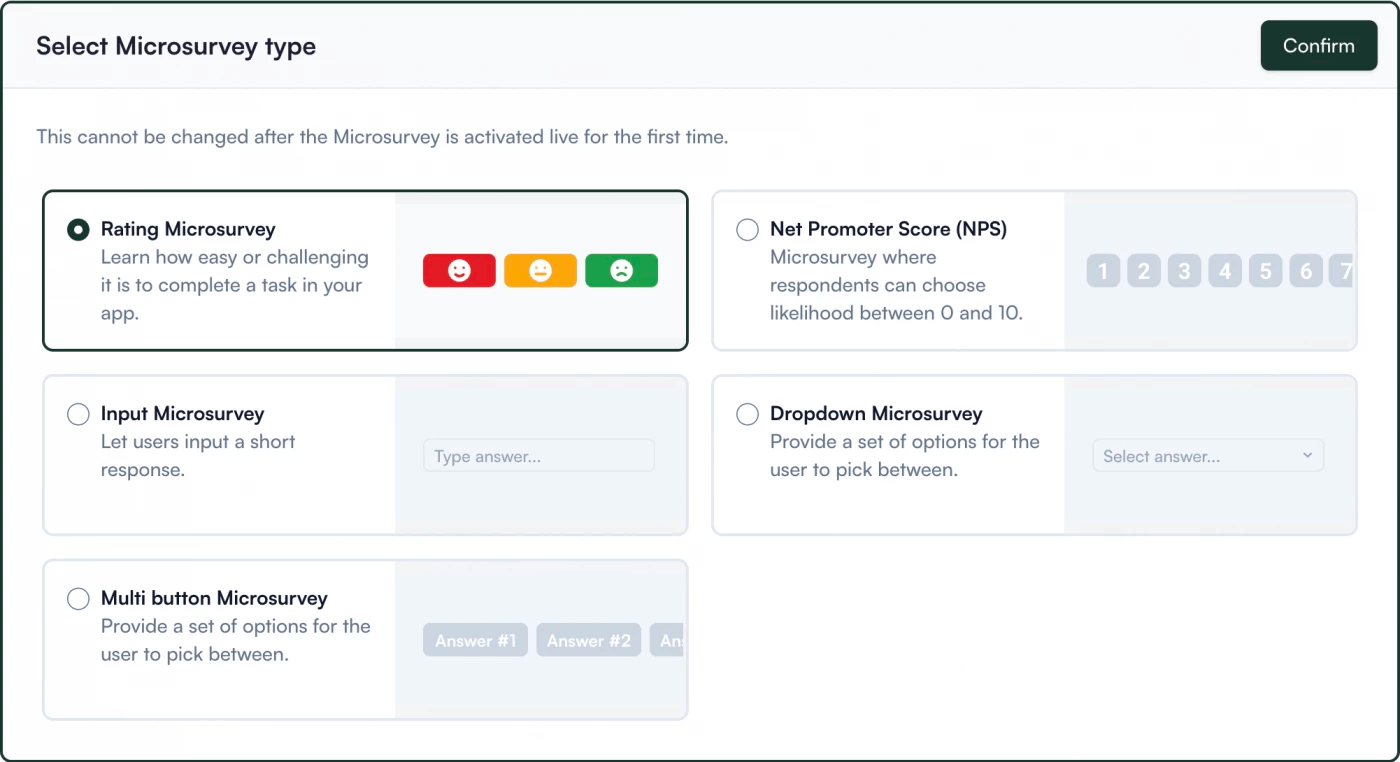 3. Appcues
With their automated product feedback collection, Appcues acts as a partner in collecting and analyzing customer feedback throughout the journey. With NPS prompts and custom surveys, Appcues offers the potential to collect valuable customer insights and feedback to improve your product.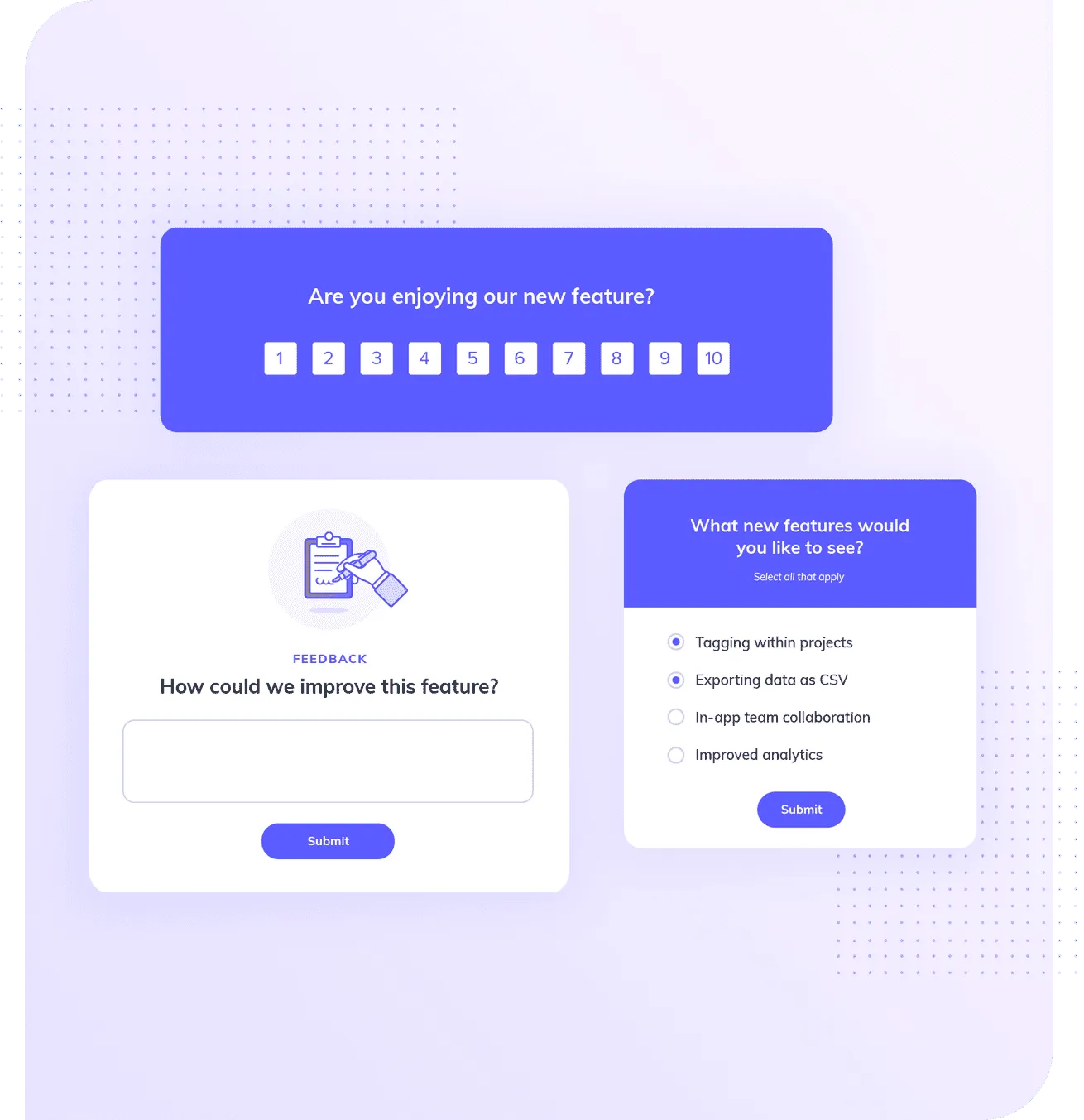 4. Birdeye
Specializing in small, local businesses with small numbers of team members, Birdeye helps find all of your online listings, engage with customers across platforms, collate information, and use these insights to grow sales directly.
They help encourage customers to leave positive reviews, which in turn directly improves sales and revenue.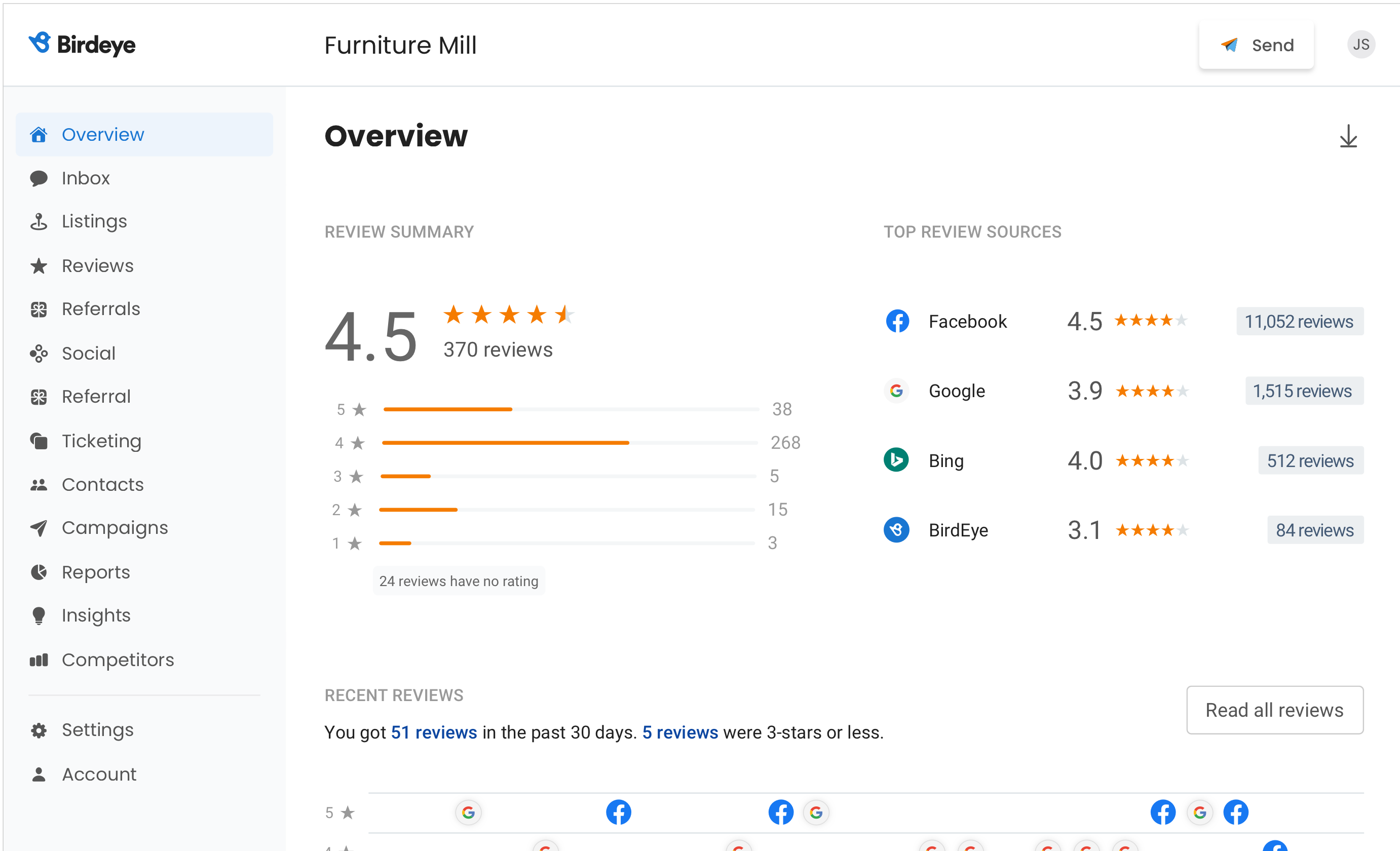 How to Handle Customer Feedback Like a Pro
As Seth Godin recently said:
"In the life of every enterprise, the moment arises when a choice has to be made: Are you here for your customers, to give them what they seek, or are you trying to do something to your customers, to squeeze out extra income?"

Seth Godin



Your customers know when you're using them to generate profit. They also know when you're striving to offer them the best service or product possible, and this is greatly reflected in how you handle your customer feedback.
With this in mind, when handling your customer feedback, whether it be positive, neutral, or negative, follow these steps.
Stay calm
It's natural to feel defensive when you receive negative feedback, but it's important to remain calm and composed. Take a moment to process the feedback before responding.
Be objective
Try to see the situation from the customer's perspective. This can help you understand their concerns and address them effectively.
Be solutions-focused
Instead of dwelling on the problem, focus on finding a solution. This shows the customer that you're committed to resolving their issue.
Follow-up and document
After addressing the customer's concerns, follow up with them to ensure their issue has been resolved. Documenting the feedback and your response can help you improve your products or services in the future.
Don't debate in online reviews
It's crucial to maintain professionalism when responding to online reviews. Avoid getting into debates with customers and, instead, focus on addressing their concerns in a respectful manner. Instead, aim to make improvements across the customer experience.
Report inappropriate, fake reviews to providers
If you come across a review that is inappropriate or fake, report it to the review platform provider. It's important to maintain the integrity of your online presence.
Making Customer Feedback Work for You
Taking customer feedback and properly managing the insights gained are vital processes that you can use to guide your business toward greater client satisfaction and profitability.
The Nextiva platform plays a pivotal role in enhancing the customer experience by providing a streamlined process for managing customer feedback.
It allows you to effectively collate, analyze, and act upon the feedback received across various platforms, including social media. This direct customer engagement provides vital insights into your offerings and helps build a strong relationship with your customer base. 
Take a look at Nextiva's reviews to get an idea of the service quality and also how your customer feedback management would look like with Nextiva.
Remember, making customer feedback work for you is about seeing your business offering from your customers' perspective and better understanding their needs and expectations. Use these insights to provide your customers with the best service or product you can possibly offer.
Do so, and you'll increase your number of new customers, while also growing a loyal customer base
The post Managing Customer Feedback: Why It Matters & Top Strategies appeared first on Nextiva Blog.