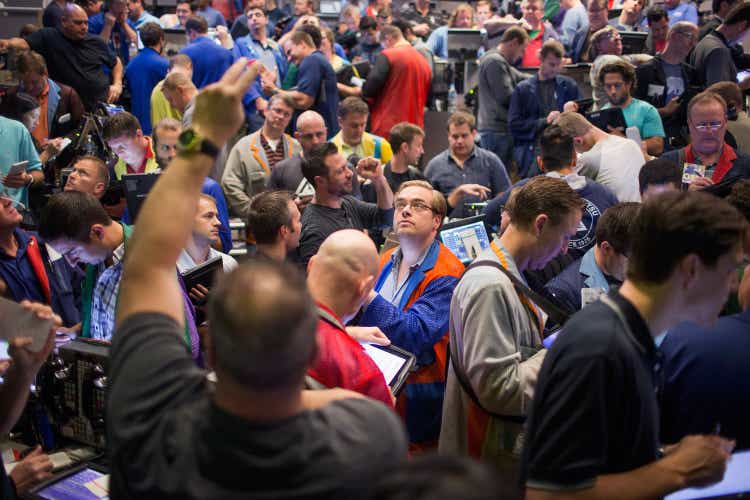 Stock index futures were higher Thursday, but the open will likely be dictated by the latest retail inflation figures.
S&P futures (SPX) +0.4%, Nasdaq 100 futures (NDX:IND) +0.5% and Dow futures (INDU) +0.4% were higher.
A hotter-than-expected PPI on Wednesday failed to halt the market's winning streak.
"10yr US bonds go into the big (CPI) release some -31.5bps beneath their intraday peak last Friday immediately after the jobs report, with yesterday seeing a further -9.5bps move lower," Deutsche Bank said. "The big story was a significant flattening in the Treasury curve, with the 2yr yield up +1.3bps , whilst the 30yr yield came down -13.8bps, its largest daily decline since March at the height of the banking turmoil."
"Overall, there was lots of talk about steepeners being a crowded trade and helping to create the fairly sudden flattening of late. We have a 30yr auction today to test this recent long-end outperformance."
This morning, 10-year Treasury yield (US10Y) fell 2 basis point to 4.57%. The 2-year yield (US2Y) was down 1 basis point to 4.99%.
See how yields are trading across the curve.
The "question is whether a slightly hotter CPI print can change the mood, also for the back end," ING said. "It could lay the groundwork for yields testing higher eventually, but we saw that the reaction to the higher PPI yesterday, which also flagged some upside risk to today's CPI reading, was temporary."
"This is interesting as it means the long end is braving supply headwinds while the 10-year UST tap yesterday actually saw lackluster demand."
Economists expect a monthly rise of 0.3% in headline and core CPI for September. The annual rates are seen dropping slightly for both.
The "forces which drove up core inflation — excess demand, the supply chain crunch, rapid wage growth, Covid driven chaos in the rental property market, and soaring food and energy prices — continue to abate," Pantheon Macro's Ian Shepherdson said. "We remain firmly of the view that core inflation will fall faster than the Fed expects over the next year."
"That said, the core CPI is extremely volatile month-to-month, in part because the airline fares component is very sensitive to jet fuel prices."
Weekly jobless claims hit at the same time as CPI. The forecast is for a small rise to 210K.