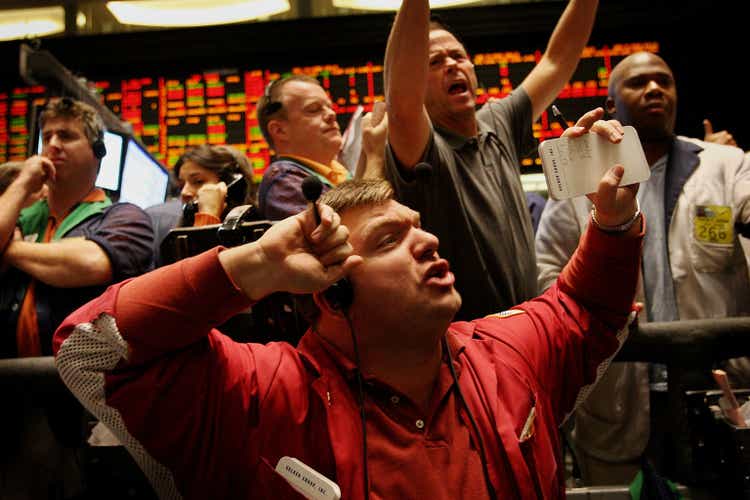 Stock index futures were mixed Friday with eyes on the upcoming August jobs report.
S&P futures (SPX) -0.2% and Dow futures (INDU) -0.5% were lower. Nasdaq 100 futures (NDX:IND) +0.1% were up.
The S&P 500 (SP500) snapped a four-day winning streak on Thursday. It fell 1.8% in August. The Nasdaq (COMP.IND) lost 2.2% and the Dow (DJI) fell 2.4%.
For the week, the Nasdaq is up more than 3% going into Friday's trading, with the S&P up more than 2% and the Dow up more than 1%.
Rates were understandably cautious. The 10-year Treasury yield (US10Y) rose 2 basis points to 4.11%. The 2-year yield (US2Y) was flat at 4.86%.
See how yields are trading across the curve.
The jobs numbers hit before the bell. Economists are expecting a 170K gain in nonfarm payrolls, with the jobless rate staying steady at 3.5%.
JOLTS and ADP showed weakness this past week, but initial claims were consistent with payroll gains still around 200K.
"The pandemic meant that a lot of people were sitting at home, rethinking their life choices," UBS' Paul Donovan said. "When life resumed lots of people decided to change jobs (especially the "temporarily unemployed")."
"This increased churn in the labor force (showing up as increased vacancies), and caused employers to complain about the increased hassles of having to hire people. Now things are settling down, and people are staying with their employers. Job stability and job security help stabilize middle-income consumer spending, supporting the softer landing scenario."
After the start of trading, the ISM manufacturing index for August hits. The forecast is for a small uptick to 47.